The Lava system from 3M ESPE is one of our most prestigious premium crown and bridge options.
All Lava products are created using Lava Design software by 3M ESPE in conjunction with CAD/CAM technology. The CAM manufacturing process results in excellent fit, achieved due to the high milling accuracy and calculation of the sintering shrinkage via the system's software. Lava closely mimics nature in appearance, with a choice of individually coloured, translucent frameworks in eight different shades. The fracture strength of zirconium oxide is many times higher than that of conventional all-ceramic materials, far exceeding the stress requirements of the oral cavity.
Layered zirconia crowns and bridges ( Lava, Cercon, Procera)
ISP e.max CAD Crowns
IPS e.max CAD utilises the same high-performance lithium disilicate ceramic material as traditional pressed IPS e.max; matching its aesthetic qualities, while also giving all the advantages of CAD/CAM manufacture including accurate fit and consistent quality. These single-unit crowns are milled by core3dcentres, an Ivoclar Vivadent-validated milling center, on their DMG Ultrasonic 20 CAM machine. This innovative crown is 2.5 to 3 times stronger than other full-contoured crowns at 360 – 400 MPa. IPS e.max CAD is an ideal material for crowns as it exhibits aesthetic properties of both translucency and brightness.
IPS Emax Lithium Disilicate and Empress leucite reinforced glass ceramic
We work with all implant systems including (but not limited to):
Nobel Biocare
3i
ITI
Straumann
Astra Tech
Southern Dental Implants
Custom Zirconia and Titanium abutments
Creative Dental Images is the market leader in producing porcelain fused to metal (PFM) restorations. PFM crowns have been tried and tested for decades and offer strength, reliability, aesthetics, and good marginal fit. All PFM crowns use biocompatible alloys and the finest feldspathic porcelain systems to ensure attractive and natural aesthetics whilst providing secure bonding strength. They are also gentle on the mouth area.

PFM crowns are available as standard or premium varieties depending on your budget and the required level of customisation.The standard PFM restoration covers all the basics while the premium version has multiple layers and internal characterisation, as well as the option of shade matching using our ShadeVision service.

Non-precious, Noble, High Noble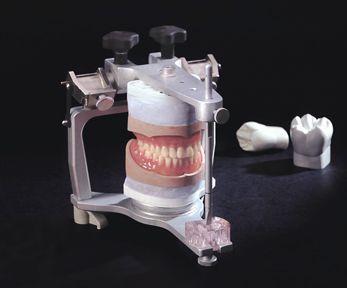 Acrylic
Creative Dental Images acrylic department has been servicing dentists since 1986. Acrylic work is the foundation of the company and what we do best! Our three senior acrylic managers have over 100 years experience between them and together they ensure that all acrylic work maintains a high level of quality, professionalism and individual service.
We accept all varieties of dental acrylic work and our large and dedicated team of technicians and supervisors are always available to assist you in providing well-fitting and aesthetically pleasing work.
Our range of acrylic work and systems includes:
Pressure and heat packed dentures
Cold cured dentures, for urgent jobs
Flexible material base dentures
Characterisation of dentures (rugae), labial buckle carving and colouring
High impact acrylics
Customised, shaded acrylic